We are happy to finally introduce our latest WordPress theme Weta for magazines, blogs and WooCommerce shops to you! Weta has a beautiful, minimal, clean design and lots of practical features, so that you can easily build your own, individual WordPress website. The custom Weta Front page gives you the freedom to create just the layout you need. And with easy-to-use custom Weta widgets like the Author, Quote, Post Slider or Recent Post widget, you can really highlight and feature your content in a special way. Of course you can also use the WooCommerce product widgets to show your shop products on the Front page.
We are so happy to finally be able to offer you an Elmastudio theme with WooCommerce support, since many of you have ask for this since a long time. With Weta you can now create a WordPress shop with a clean and minimal design.
The Custom Front Page
The custom Weta Front page gives you the power to create your individual website layout. You can show your best posts in Featured Post sliders (you can use multiple sliders in the different widget areas), filter your posts by categories in the Weta Post widget (you can even choose a random display option for your posts), show the authors of your website and include quotes and of course your featured shop products on the Front page.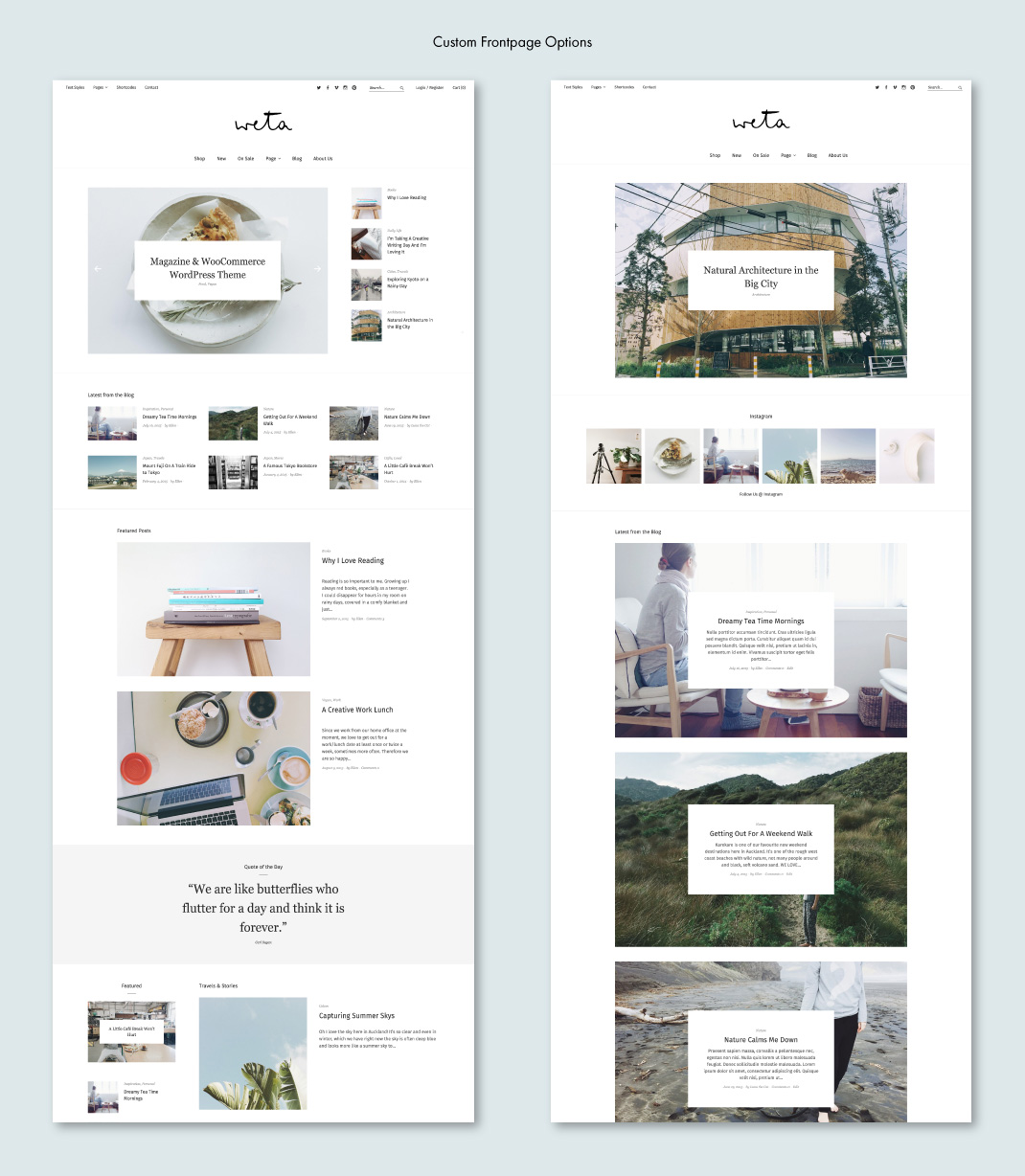 You can choose which of the Weta Front page widget areas you like to use. You have three big, single column widget areas, a widget area with a left-aligned sidebar and one with a right-aligned sidebar to choose from. You don't need to fill all widget areas with content, you can just choose the once you like the most or even show all your content in one big single-column layout.
The WooCommerce Shop
We are very happy to finally offer you a theme with shop support. Until now we never felt ready to tackle the shop-theme subject, but we actually had fun with it and like the clean, minimal approach of the Weta WooCommerce shop functionality. Since we already use WooCommerce here on Elmastudio anyways, it also was not so much new things to get used to.
You can use Weta as a Magazine/blog and shop theme combination or of course only use the WooCommerce shop feature of the theme alone. The default shop template of Weta is a three-column full width layout, but with the help of the Weta Front page you can also show your shop in a layout with left-or right-aligned sidebar.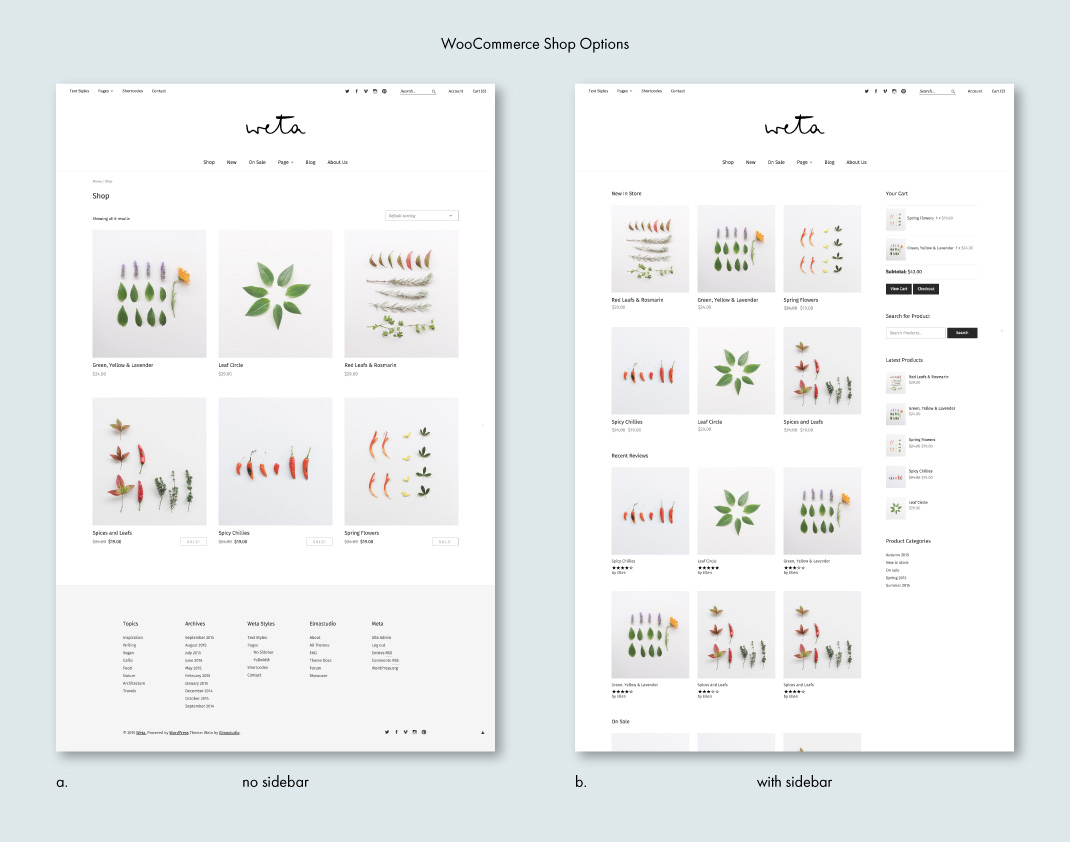 It was important to us to create a clean and uncluttered cart and checkout page template, therefore both templates have a full width page design.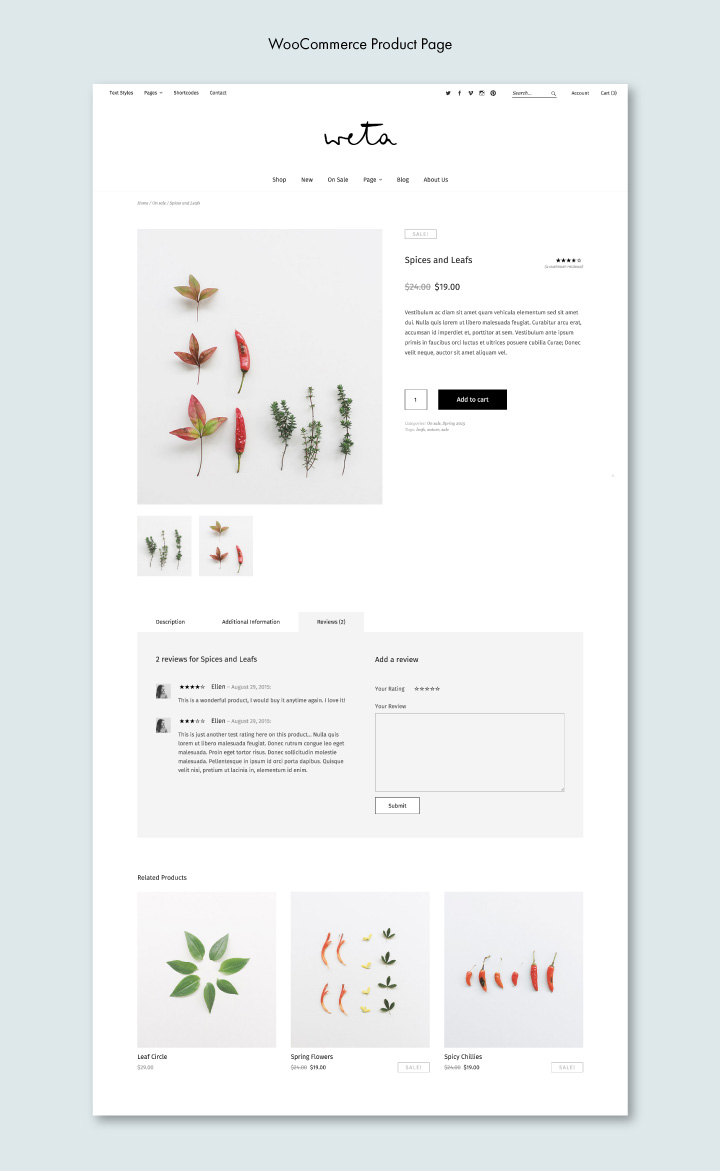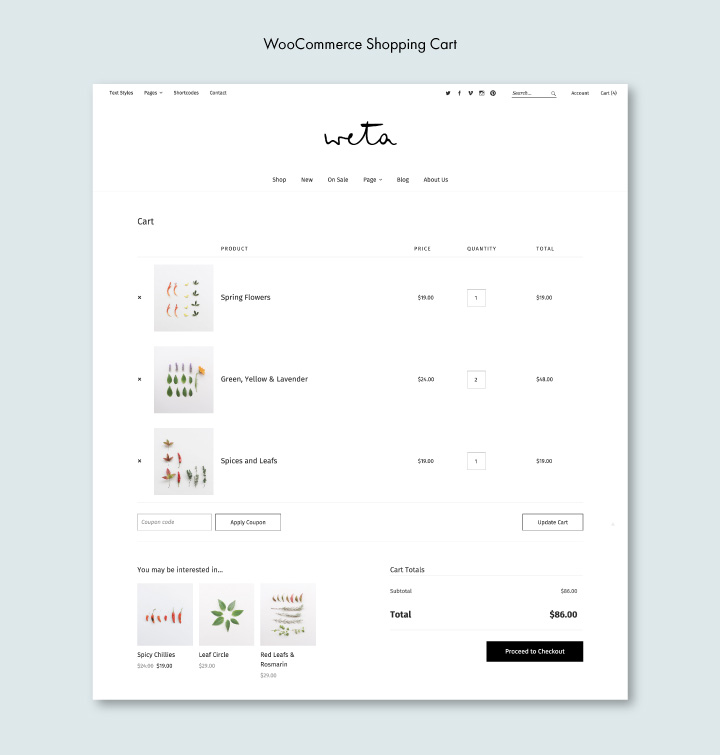 The Theme Options
in the Weta theme options wanted to include a lot of things we learned from our previous themes and from the feedback we received from you.
Therefore we offer a number of new, helpful theme options, that you will hopefully like. In the customizer you can e.g. find the options to fix-position the main menu, show an additional small logo icon in the main menu or show extra WooCommerce shop elements in the header.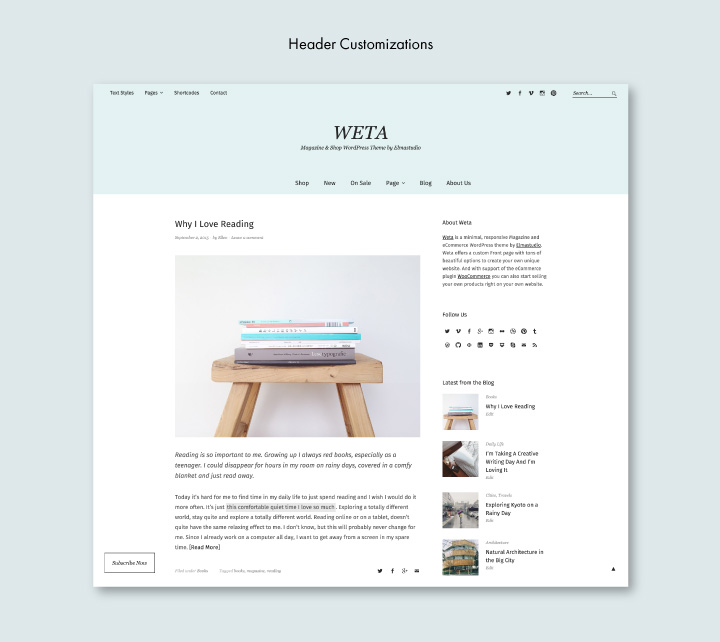 You can also choose to hide Featured Images on single posts, show automatic excerpts on the blog or/and on archive pages and show a Read More link in posts on the Front page. Of course you can also customize colors like the header and footer background color or even the background colors of the custom Weta widgets.
Further Theme Features
An additional special theme feature of Weta is the Subscribe widget area. You can include the Jetpack Subscription widget here to show a Subscribe form in a cool light box design.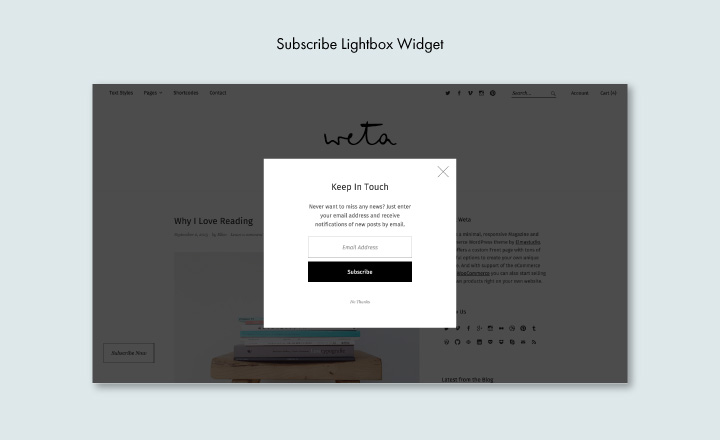 Video Posts in Weta
Weta also offers support for Video post formats, by showing a small play icon in the Featured Images of video posts. Featured Images are also hidden by default on single posts.
Your Feedback
We hope you like our new Weta theme. Of course you can also use Weta as a simple blog-only theme (with or without sidebar), chose from a number of page templates and additional typography styles. Just have a look at the Weta live demo or the Weta theme page to purchase Weta or our Theme Bundle directly.
We are looking forward to your feedback! Please just let us know, if you have any suggestions or find a bug in the theme.