"Perhaps you've decided to start an email newsletter but don't know where to begin, or want to revamp a newsletter that isn't performing well. Here we offer tips on how to create a great newsletter for your WordPress site. Find your audience, engage your clients, and build your brand."
When done well, email newsletters are an effective communication, marketing and branding tool. Newsletters play a key role in outreach and remain one of the best ways to keep your readers regularly informed about happenings on your website or blog. Their primary purpose is to help build positive relationships between your business and your subscribers, by providing useful information on a regular basis. They inform and update, feature special offers, promote products, showcase new services, announce events,  share advice and host reviews.
Not only are newsletters a cost-effective and low maintenance way to maintain contact with your client base; they also attract new clients, build your brand, expand your reach, and encourage traffic to your site.
Your Audience
A newsletter is a great way to engage, reach, entertain, and inspire your audience. However audiences have limited time and attention spans in our media saturated world. So if a newsletter is boring, repetitive or over-promotional – it will not be read.
While you may be inclined to purely focus on exceptional design, copy and calls-to-action, most important of all is meeting your audience's needs.
Think about who your target audience is. Do your subscribers seek advice, facts, reviews, or inspiration? Get to know your audience by listening to feedback. If you deliver on what your audience wants, your readers will remain interested and engaged in your brand.
A simple way to gauge the success of your newsletter is by tracking engagement levels and the number of subscribers (increasing or decreasing). An enjoyable newsletter should receive responses (such as comments or questions) from subscribers. Responses are a good thing, and should be encouraged.
Branding
A newsletter is a great way to connect with your audience and build a community that supports your brand.  To showcase the very best of your brand, ensure that your newsletter consists of balanced content – 90% educational (useful advice, product reviews etc) and 10% promotional (offers).
Here are several aspects to consider when bringing your brand to your newsletter:
Brand personality is the way a brand speaks and behaves. Every brand has its unique voice, one that matches the products or services it offers. Whatever your brand voice is, it should be consistent across all your marketing channels, including newsletters.
Brand consistency allows you to solidify your message and gain your clients' trust. It's a major step towards letting people know you as a business.
Brand engagement is achieved by connecting with your audience on a regular basis.  Use your newsletter to tell your story and build your brand. Get personal – tell your audience about yourself and your business. Demonstrate your values, so that potential clients feel compelled to connect with you and learn more about your brand. Tell the story of how your brand got started and why you are passionate about your business. In short, show how much your business means to you and why, will endear people to your brand.
Format
Newsletter formats differ from one another in their design, functionality and use. It is important to brand your newsletter in a unique way, so that it stands out from all the standard newsletters out there.
You want to produce a creative newsletter with a professional look that fits your business, maintaining a consistent layout from issue to issue.
Consider format options – which design will help you to best showcase your content and convey your message? A well suited format should bring more meaning and substance to your content.
Think about layout flow and readability. Readers should be able to quickly scan a newsletter to identify points of interest, and then easily read and engage with them.
Style
While the format and content of your newsletter is incredibly important, another crucial aspect to be considered is styling.
Fonts play a very important role in brand consistency, creating interest in your product, and highlighting your central message.
Colour is another vital part of brand identity. It is the visual component people remember most about a brand – it has the power to express a brand's attributes and values.
Use images (photos and graphics) to create visual interest. Visual information is not only convenient (allowing readers to quickly gain an overview of content) but also helps to strengthen your brand identity. You can find high quality stock photos on Unsplash.com.
Logos are a critical aspect of your newsletter design, generally being placed in the top left or centre of your header. Your logo anchors your brand, as well as reflecting its values. It is also one of the most powerful marketing tools your company has.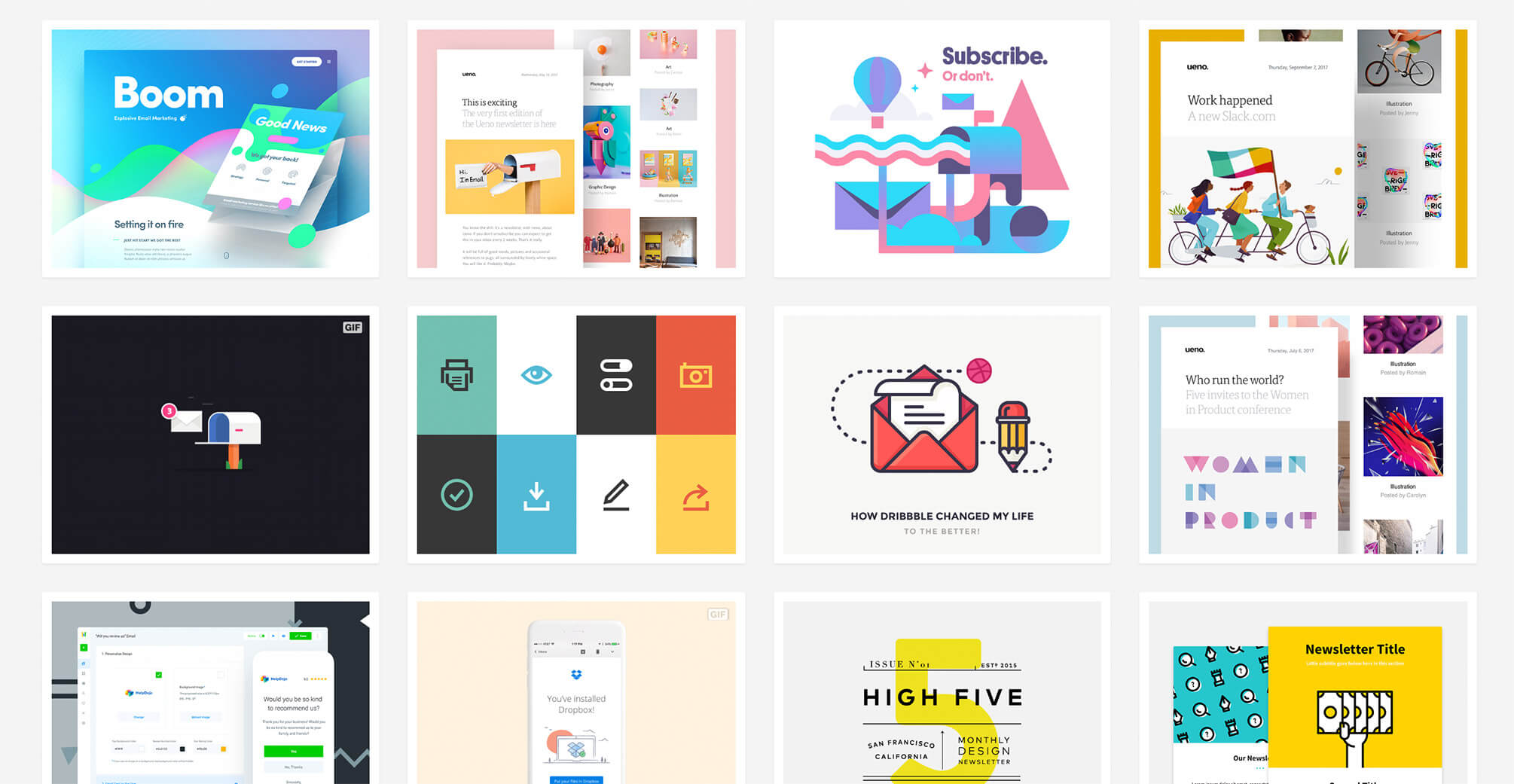 Content
Curate your content and focus on context – be discerning and methodical. Think about your marketing message – what is the very best way is to communicate your brand story and connect with your audience? Draw readers in and make your content memorable.
Every newsletter should provide recipients with information of value. Inform rather than advertise (loose the sales hype), but offer incentives (via calls-to-action to related website links).
Do your homework (use quotes, stats and facts) and introduce brand new content in each issue. Remember the mantra quality over quantity, keep your newsletter concise. Focus on newsworthy angles, relevant topics, and creative content that adds value. Begin with lively headlines that grab attention and follow up with powerful leads. Deliver variety and uniqueness, as no one wants to re-read similar content from issue to issue. Finally, be personable – readers will interact more with a newsletter if they feel that it is intended to truly benefit them and not merely to promote something.
Plugins
Within the WordPress plugin directory there are some plugins with which you can build an email list directly, without a newsletter service. However, I would rather recommend using professional email marketing services like MailChimp, Campaign Monitor or CleverReach for your newsletters.
You can find out more information on useful WordPress plugins for email newsletters on the previous Elmastudio blog post The best WordPress plugins for newsletters.
Regularity
Once you begin a newsletter it's best to maintain a regular publishing schedule with consistent circulation. Newsletters only work when they are produced and distributed on a routine basis. This means that you need to view your newsletter as a long-term commitment and be prepared to invest time into regular updates.
Opt outs
Lastly, even the best newsletters won't appeal to absolutely everybody. Therefore include an unsubscribe link at the bottom of your email for easy opt outs. Also, ensure you comply with anti-spam legislation, by only sending newsletters to those who have actually subscribed.
Feedback and questions
What are your newsletter writing experiences? Do you have any helpful hints? We would love to hear your thoughts and feedback. We look forward to chatting with you and answering your questions, just leave a comment.