In case you watch our YouTube-Videos, you might noticed that we've been talking more about Gutenberg lately. Gutenberg is currently the "Hot Topic" in the WordPress world. At the moment Gutenberg is only available as a WordPress plugin. This way we can test the new WordPress Editor now, before Gutenberg will officially replace the current WordPress TinyMCE editor in WordPress version 5.0 (the release is planned for April 2018).
It seems as if a new WordPress era begins with Gutenberg. Over time the plan is to change the entire experience on how we use WordPress now. First it will change the way we write posts and pages, later on Gutenberg is expected to change the way we build our entire websites in WordPress. Therefore it's important that we follow the Gutenberg project closely and as early as possible (if you haven't already of course).
It's also our job as WordPress users and developers to text Gutenberg and give feedback to the Gutenberg development team. Theme and plugin authors are of course especially challenged, as Gutenberg is likely to change lots of things plugin and theme related in the near future.
How will the changes affect WordPress?
In the last weeks I have been working with Gutenberg more and more and even though there has been lots of criticisms from the WordPress community, at Elmastudio we are looking forward to the changes. At the moment there are alternative website providers such as Squarespace or Wix that make the process of building a website much easier (especially for beginners), than it is currently possible with WordPress. That's why we think it's really important to improve WordPress in this area to the point that it will even innovate the current state of " website pagebuilding".
So, yes, we are pretty excited about Gutenberg. With it's first release (in WordPress 5.0), Gutenberg will mainly be an update of the current editor experience. In one step further customization will be improved and as a third step a complete pagebuilding experience should be made available in WordPress core.
But what is Gutenberg exactly?
The big keyword in Gutenberg are the so called "blocks". Right now there are many different elements that we have to handle in our WordPress admin area. There are posts and pages, widgets, menus, customization options in the Customizer and so on. Ultimately, Gutenberg's intention is to simplify all these different elements and turn them into blocks. Blocks can be compared to Lego blocks, so they are building blocks that help you build your website in a flexible way.
At the moment, however, Gutenberg is only an update of the editor. In the following video, I'll show you how the Gutenberg editor will work and what the current state of the Gutenberg plugin in version 2.0 looks like.
So blocks are available in the editor and there are blocks for the different post and page elements such as paragraphs, headings, images, image galleries, lists, quotes etc.
In order to be prepared, when the new editor is officially integrated in WordPress, it's important to install and test the Gutenberg plugin during it's development process. Although it's not advised to use the plugin on live websites right now, you can still use the plugin. For example, if you have a WordPress test website or you have installed WordPress on a local server. There you can install and test the Gutenberg plugin.
All others can have a look at an Gutenberg project called Frontenberg, which shows you the current Gutenberg version live as a Frontend version and you can test the state of the plugin there as well.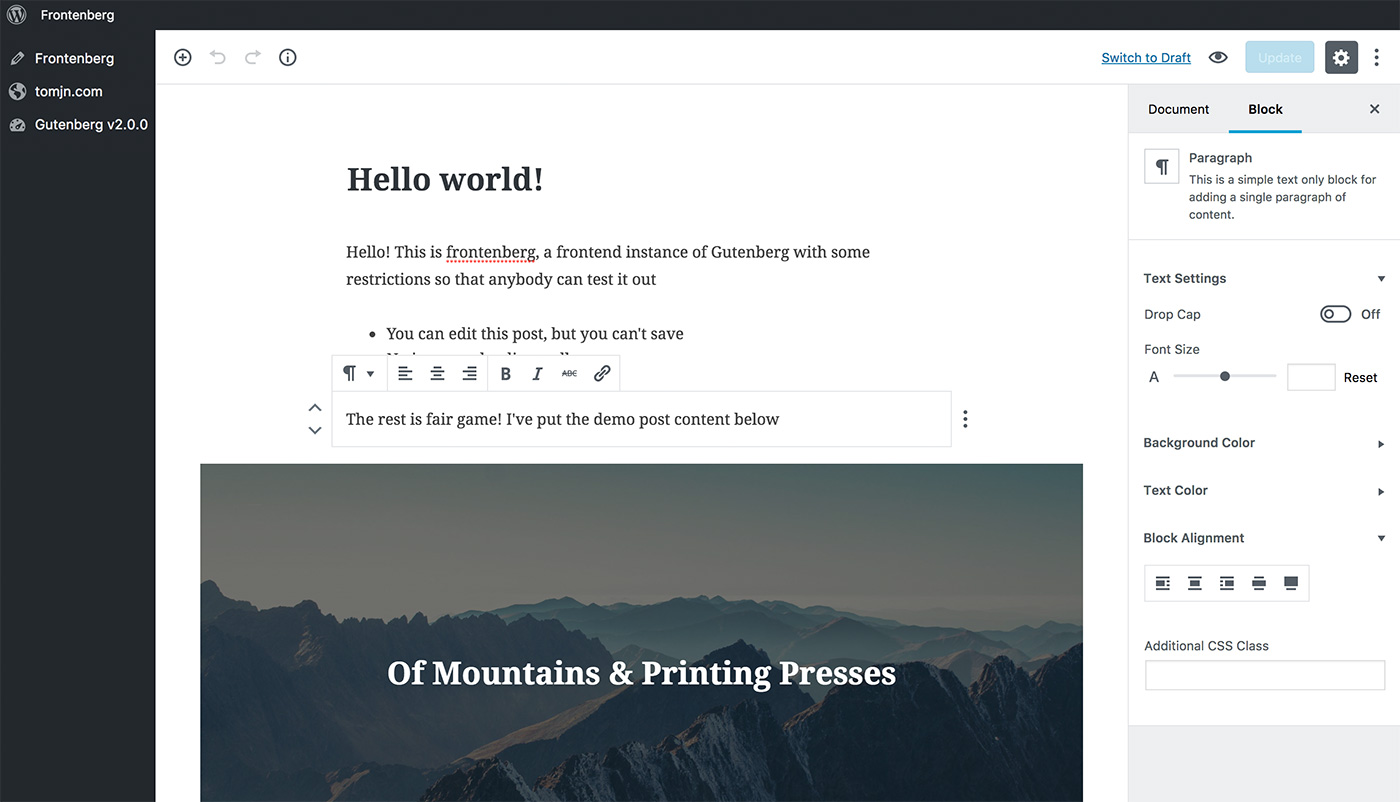 A helpful guide to learn more about Gutenberg is the Gutenberg Handbook on WordPress.org. Another super helpful source is Morten Rand-Hendriksens talk "Gutenberg and the WordPress of Tomorrow" from the WordCamp US 2017.
Your Feedback
What do you think about Gutenberg and what questions or concerns do you have? Do you have any suggestions for further blog posts and videos about Gutenberg that you would find helpful? Just write me your questions and ideas in a comment!