Yeah, Uku is here! We are super happy to finally release our newest WordPress Magazine, Newspaper, and Blog Theme Uku today. Uku is a bit different from our previous themes. It has a lot more options and flexibility and the greatest thing is, it also has a free light theme version (download on the Uku theme page). The light version is a blog-only theme with a header image option.
The Front Page
The Uku Premium version shows all the flexibility Uku has to offer. You can create your own, unique Front page in the Customizer with the Uku Front page sections. You can also include your latest posts on the Front page (optional) and include an About section with Social links. In addition, you can filter the posts in the front page post sections using tags. Here is a list of all Front page sections:
– Featured Slider (max. 6 posts)
– Featured Top section (with one big left-aligned featured post)
– 2-column section
– 3-column section
– Fullwidth Post
– Latest blog posts (optional)
– Featured Bottom section
– About and Social Links section
– Featured section on a background color
– 4-column section
– 6-column section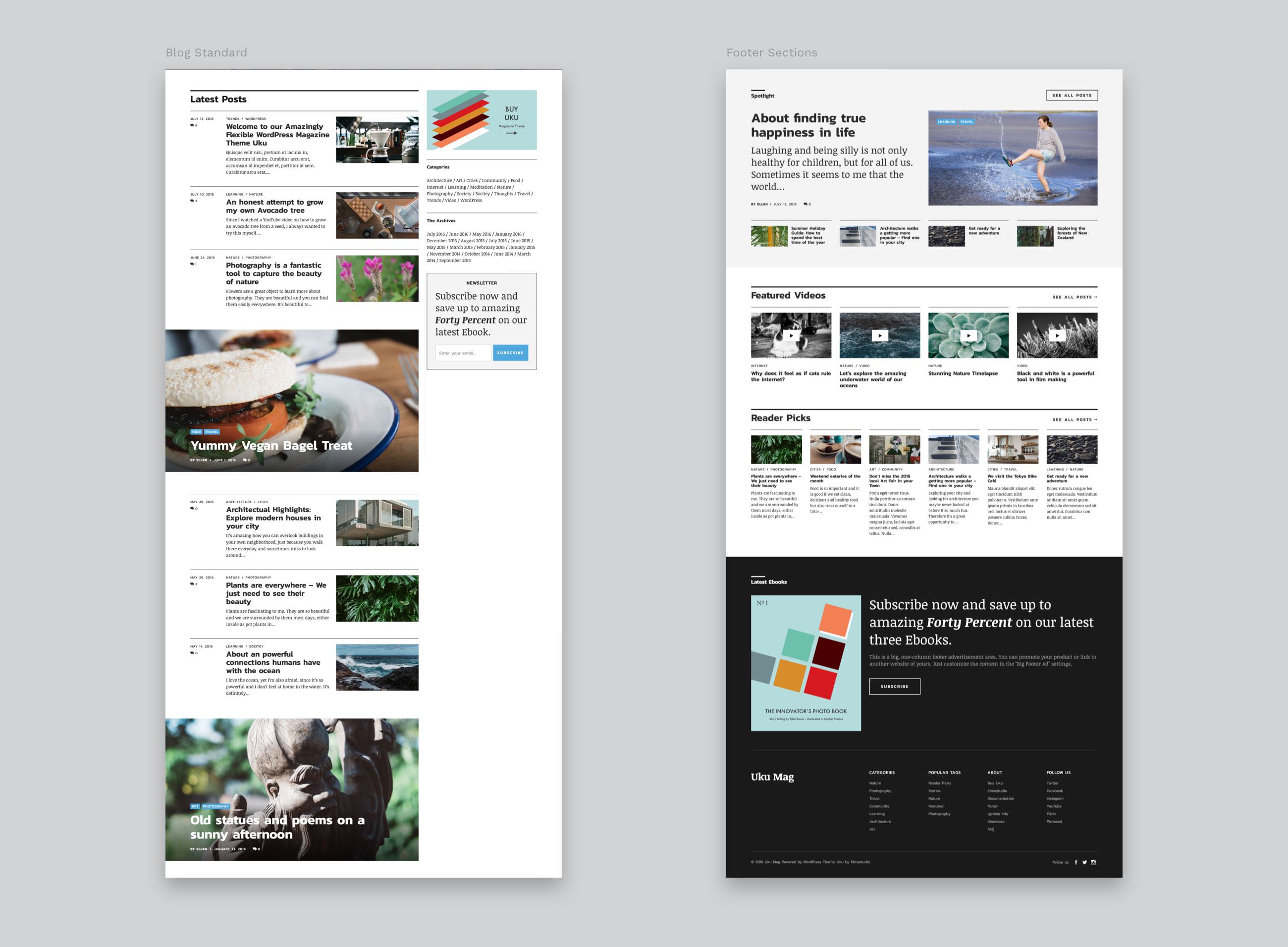 All sections are optional, so they won't show up if they are left blank. Since you can set up your front page in the Customizer, it's super easy to see what your front page will look like in the Customizer preview as you are building it.
Header and Slider Options
You can use the Featured slider or alternative an header image in three different designs: boxed, full width or fullscreen. Additionally, you can change the transparency level of the gradient or use a completely transparent background of the image with the color you like.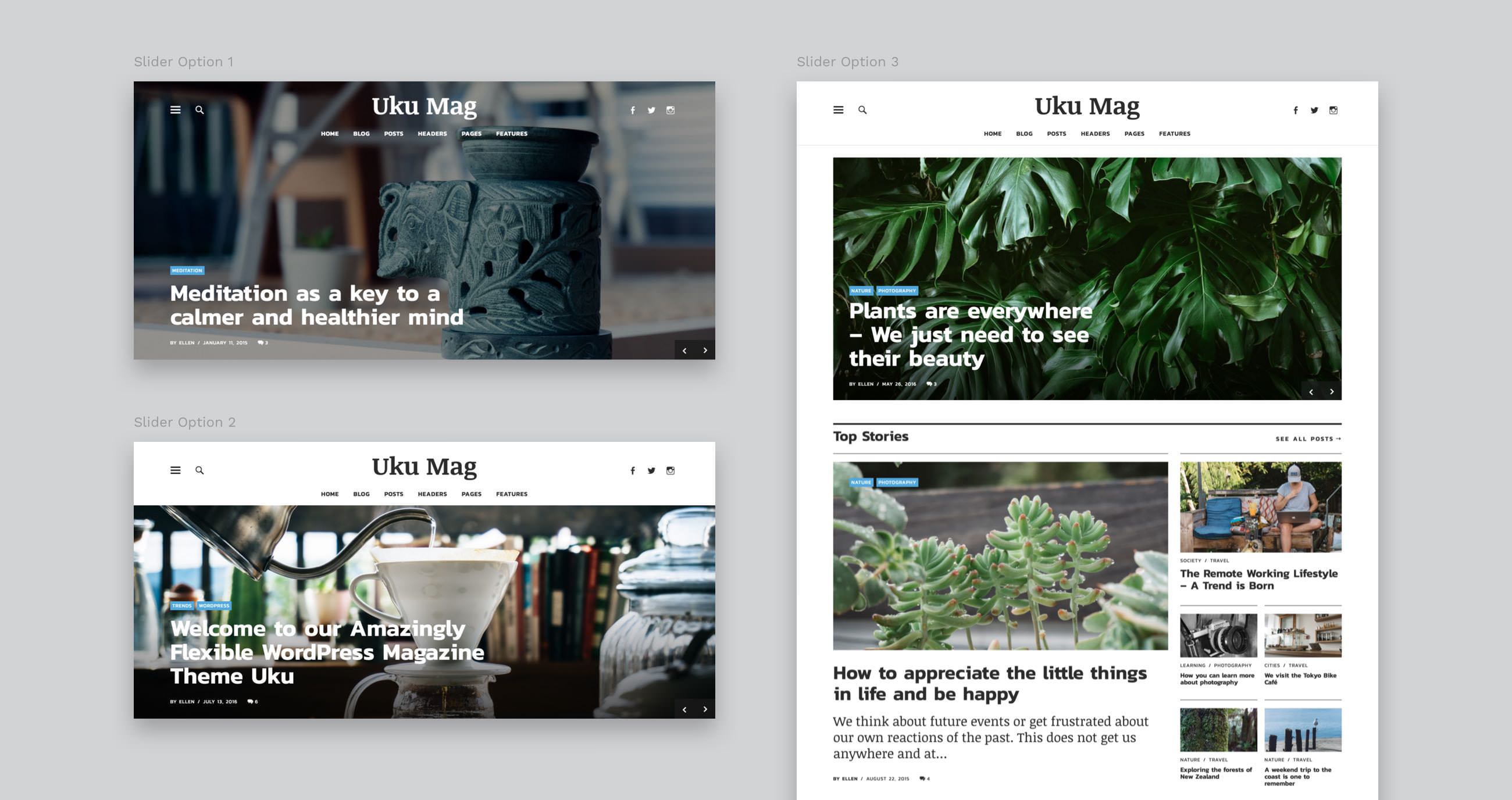 Fix-positioned Menu and Off Canvas Area
By default Uku comes with a fix-positioned menu bar, which becomes visible once the visitor starts scrolling down a page. You can choose the color of the menu bar to be light or dark and you can also choose to hide the menu bar completely. Additionally Uku also has an off canvas area (an area hidden by default) showing the main menu and an optional widget area. You can customize the background and text color of your off canvas area.
Single Posts
You can choose to show a left-aligned or right-aligned sidebar or no sidebar at all. The Featured image also has three options, the default Featured image position, a big Featured image (use a custom field with the values post_class = big-thumb) or no Featured image (custom field post_class = no-thumb). You can also add an intro text to posts with a big Featured image using a custom field with the name of "intro" and your intro text as the value.
The last widget of the sidebar will always stick to the page when a visitor is scrolling down a page. This is a great feature to highlight your newsletter form (using the Mailchimp WordPress plugin).
The Footer
The footer offers a 4-column Footer menu area as well as a big, one-column advertisement area. Here you can promote your latest product or link to another web project of yours.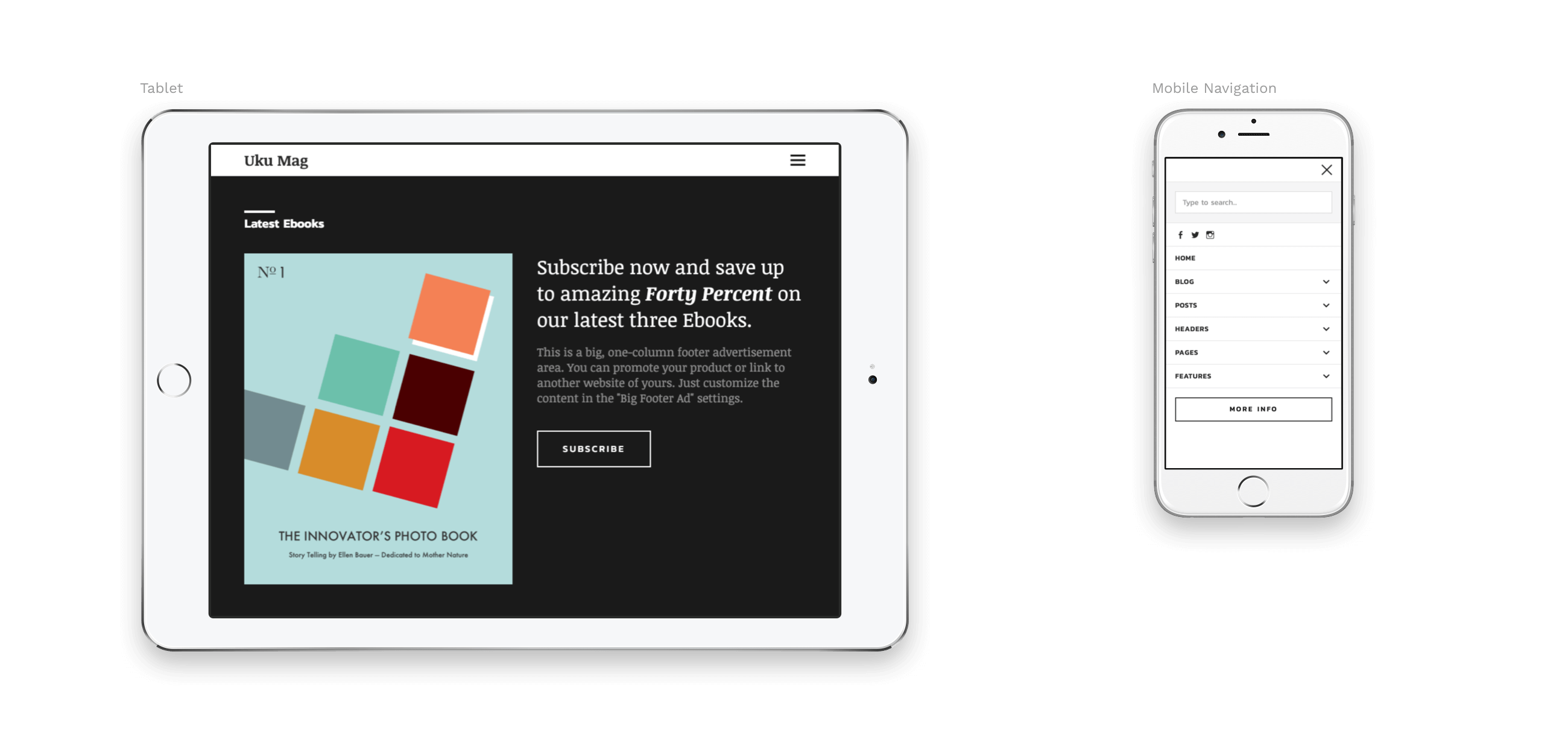 The free Uku Light version
For Uku we wanted to create free light theme version because we think it's a great way to get to know the theme better and an opportunity to use Uku for free as a smaller blog-only theme. The light version does not offer the Front page sections or the slider, but you can add a big Header image with the same layout options the Premium theme slider offers.
How do you like Uku?
We hope you like the Uku theme and you are excited to start using the theme for your website or blog. Since we plan to add more features and additional live demos with new settings over time, we would love to hear your ideas on how we can improve Uku. The Premium Uku theme also comes with the sample live demo content included. (Note: It's important to first unzip the main theme folder and only upload the included uku.zip folder to your WordPress installation after you purchased the theme). The detailed Uku theme documentation and a little video tutorial will be available online by tomorrow. Please let us know how you like the Uku theme and tell us your ideas for improvements, bugs you have found or any Uku-related theme question in the comments. We can't wait to hear from you!
Image Measurements:
– Featured images in the slider + and big images on single posts: 1440 x 530 pixels
– default Featured images: min. width of 1024 pixels
– Sidebar width 400 pixels
(Please install and run the Regenerate Thumbnail WordPress plugin after installing Uku on already established blogs to prepare the images correctly.)
Uku Links:
– Uku Premium Live Demo
– Uku Light Live Demo
– Buy Uku Premium or download Uku Light