Hello there, we wish you all a happy Merry Christmas! As a little Christmas surprise we have two exciting news to share with your today. First we are so very happy to be able to present our newest Magazine WordPress theme Ponsonby to you. Ponsonby is a minimal, responsive WordPress Magazine theme with an individual Front Page template and flexible Front Page widget areas and a Recent Post widget, so that you can easily create your own elegant, Magazine-style website with Ponsonby (have a look at the Ponsonby Live Demo).
And of course we have also prepared a little Christmas holiday discount for you. From today until December 31th (12pm, CET) you will receive a for the Theme Bundle and all single themes. Just use the coupon code on our checkout page during your purchase and the reduced price will be shown to you, before completing your purchase.
Get to Know Our Latest Theme
One of Ponsonby's greatest theme highlight is the flexible, individual Front Page, that offers you the possibility to create your own custom Front Page using the Front Page template and custom Front Page widget areas. After you set up your new static Front Page in WordPress, you can add widgets under Appearance / Widgets or via the theme customizer to the flexible Ponsonby Front Page widget areas.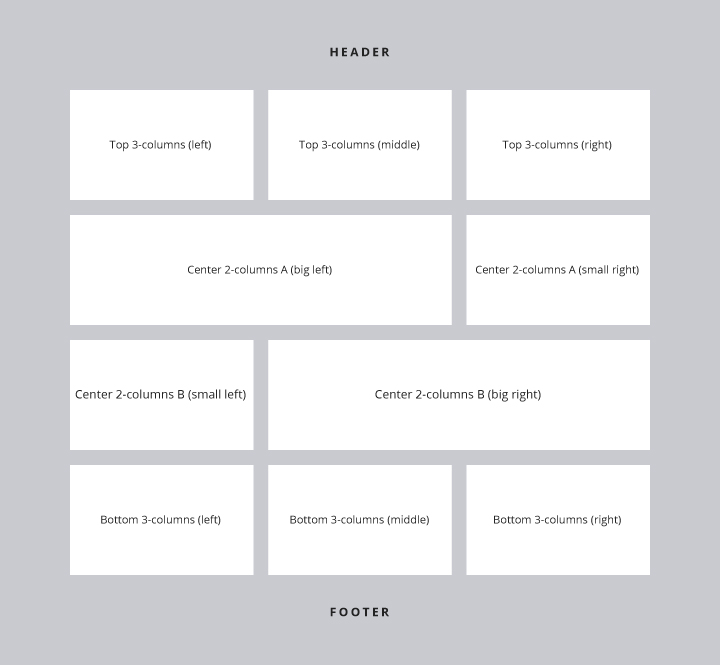 You can add numbers of recent posts using the Ponsonby – Recent Post widget. Here you have the option to choose the number of posts you want to add and filter your posts by category slugs or/and tags. You can also choose to display your posts with Featured Images or without and use the big Featured Image option for the bigger two-column widget areas.
The Classic Blog Layout
Of course you can also use the beautiful, minimal standard blog layout in Ponsonby. This way you can also use Ponsonby as a blog-only theme with the right-aligned blog sidebar.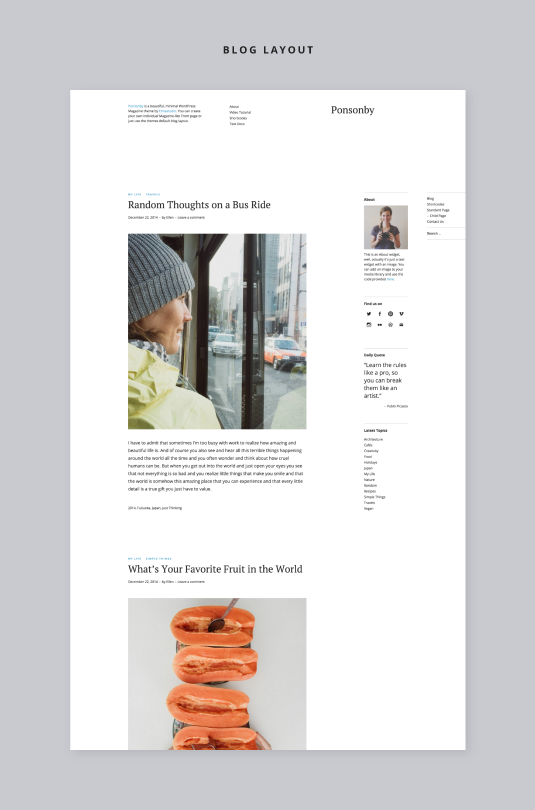 Your Featured Images can be a real highlight as well, with a maximum image width of 1530 pixels on bigger desktop screens (and 1020px on standard screens). You can also choose to not display Featured Images again on single posts by setting the Theme option under Appearance / Customize / Theme.
Further Theme Highlights
Ponsonby's elegant, open Front Page with lots of white space and flexible content areas is especially beautiful. You can also add additional widgets to the three-column Footer widget area and add your own Header slogan text in the Theme options. Next to the Header slogan you can also add an additional top menu navigation (see Header Top menu under Appearance / Menus).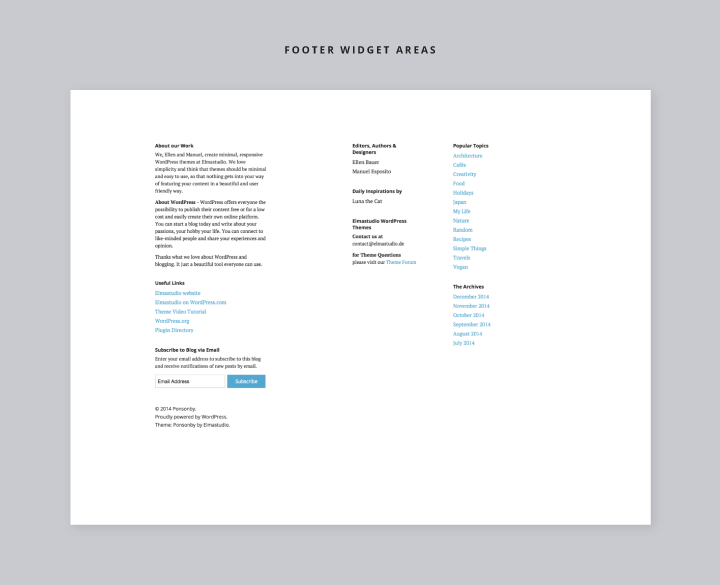 Of course you can also further customize Ponsonby under Appearance / Customize and change your theme colors, upload your own logo image (with a max. width of 280 pixels), fix-position your main menu or hide the search form in the main menu.
Just head over to the Ponsonby live demo to have a closer look at our newest theme or read more about the theme details on the Ponsonby theme page.
Your Feedback
We hope you will like our newest Elmastudio WordPress theme Ponsonby. We are already looking forward to your feedback and suggestions for improvements of Ponsonby. But for now we just want to wish you a relaxing Christmas holiday with your family and friends as well as some well-deserved time-off during the holidays.
Yours, Ellen & Manuel