Are you also sometimes just too lazy or to too much in a hurry to cook your own lunch or prepare your lunch for the next day? It happens to me way too often and sometimes I also just can't think of new recipes for my lunch and end up eating unhealthy or the same things all the time.
To get some new ideas and inspirations for a healthy summer lunch, I prepared some fun, healthy sandwich recipes that are delicious and easy to prepare. Especially now in the summertime there are so many great, fresh ingredients you can include in your lunch, but maybe don't think of right away. I always like to try out new ingredients and I hope you like my fun and healthy sandwich ideas and the recipes help you to bring some new life into your lunch time routine.
Avocado Dill and Walnut Sandwich
I'm pretty sure I'm the biggest avocado fan out there and if I can find a ripe avocado in the store, I just can't resist. My favorite Guacamole (avocado dip) recipe is very simple, with just a little lemon, pepper and salt as flavor.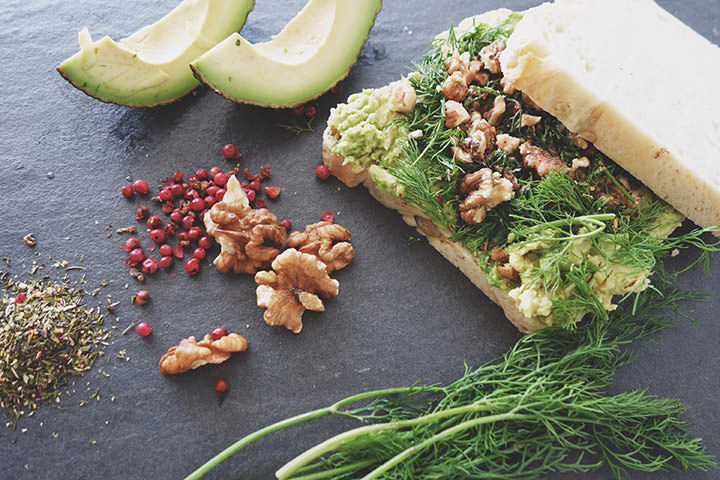 For my avocado sandwich I also added fresh dill and crushed walnuts as a combination. That is super healthy and of course yummy as well.
Sandwich with Black Beans, Cilantro and Blueberries
I have to admit that I'm usually not the biggest fan of beans. But for black beans I will definitely make an exception. Somehow black beans always remind me of summer and heat and I really like their unique taste. It's best to soak your black beans overnight, before you cook them for about 2 hours. Since they have to cook for quite some time, I always make quite a lot. Black beans are also great as a base for a vegan burrito filling or for soups and chilis.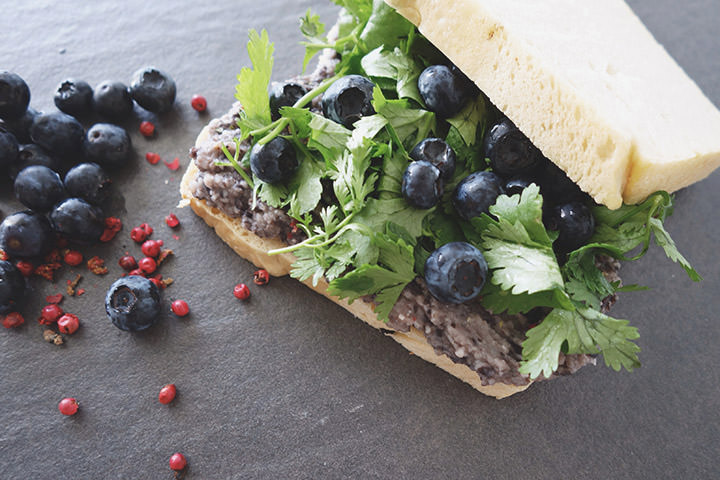 To make the black bean paste, you can just blend the cold, soft beans with a hand blender. For some flavor you can add a chili powder, salt, some fresh pepper and lime or lemon, if you like.
Add some fresh, chopped cilantro and fresh blueberries on top and ready is your next super yummy and healthy sandwich creation!
Hummus, Baby Spinach and Cucumber Sandwich
Hummus (chickpea paste) is probably my second most favorite thing to eat right after avocado. Therefore I don't want to miss out on a sandwich creation with hummus as a basis. You can prepare hummus yourself pretty easy and it's a lot cheaper and probably more healthy than to buy it in a store. You can buy cooked chickpeas in a glass (avoid cans, if you can) or just cook the dry chickpeas yourself. Then you can puree the cooked chickpeas in a blender or with a hand blender. Add lime or lemon, olive oil (extra virgin), salt and fresh pepper. If you in a hurry, of course the ready-made hummus from the store will do the job as well.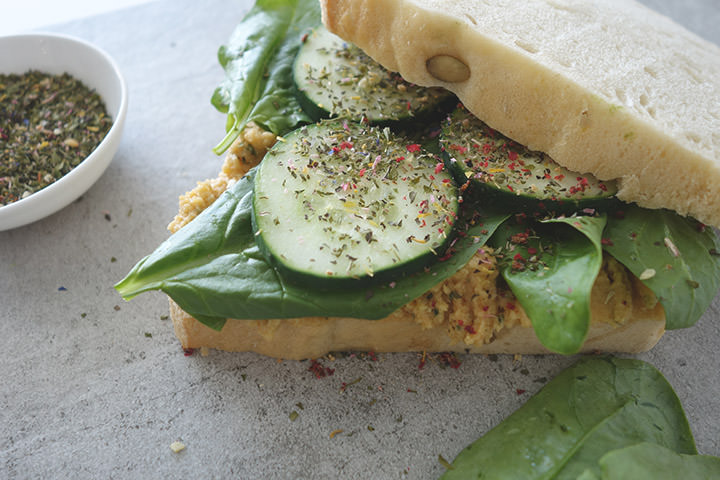 Now you can add fresh baby spinach and slices of cucumber to your sandwich. Add some fresh pepper and herbs to it and ready is your next amazing, fresh and healthy sandwich for your next lunch.
What else can I have for my lunch?
Smoothies and delicious fresh fruit and veggie juices will match perfectly to your sandwiches. Of course it's best, if you can prepare your juice or smoothie just right before you drink it. But still better as a soft drink is a fresh juice you prepared in the morning before work. You can take it with you to work in a big take away cup (if you are not working from home anyways).
You can find lots of fun, healthy recipes and ideas for smoothies and further lunch ideas e.g. on the Oh She Glows and Rawmazing blog. Have a look at the Post Punk Kitchen blog for further cool sandwich ideas.
And What Are You Eating for Lunch?
What is your favorite food for lunch and do you have any further creative, fun and healthy ideas for easy-to-make lunches that you can share? I'm looking forward to your feedback and your ideas!