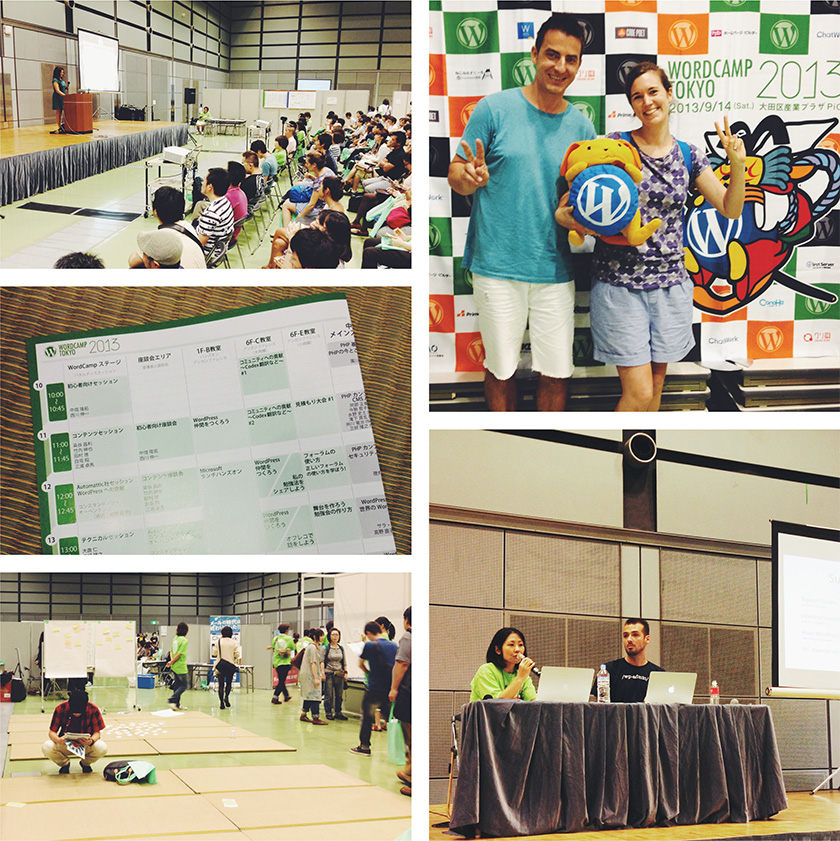 Since visiting Japan was a big dream of us for quite a long time already, we are totally happy at the moment to be able to spend four weeks in this incredible fascinating and inspiring country. And that we can even attend this years WordCamp Tokyo during our stay in Japan, is of course a very special highlight for us.
So yesterday more than 1000 visitors were expected to come to the Plaza Industry Ota exhibition center a little bit outside of central Tokyo. The WordCamp was organized more like a fair and was held in one big congress hall. The entry was free for everyone, since as far as I know, the WordCamp was sponsored completely.
There were many small booths for the companies to present their services and products with promotion material, which meant lots and lots of stickers, japanese fans, brochures and small presents.
Talks at the WordCamp
There were two stages for talks and discussions, so unfortunately it could get a bit noisy at some points. Of course we were a bit lost in translation during the talks in Japanese, but luckily two talks were also in English (they got translated into Japanese) by the Automatticans Sara Rosso (Twitter: @rosso) and Konstantin Obenland (Twitter: @obenland).
Sara talked about the VIP WordPress service by Automattic (the company of WordPress founder Matt Mullenweg), which already has an impressive number of big companies, governments and blogs running WordPress through the VIP service. Some examples are the Charity Water blog or TechCrunch.
Konstantin talked about the development process of WordPress themes and gave useful advice for developing your own WordPress theme. It was very interesting to hear him speak a little bit about the development process and some features of the new default theme Twenty Fourteen, which will probably be released with the WordPress 3.8 version.
Konstantin said that all themes developed by the WordPress theme team use the _s blank theme as a starting point. To use _s for your own theme development, just generate the the bank theme with your own name at the underscore.me website.
(I will also post a link to Konstantins slideshow including a lot of useful links for theme developers, as soon as the slideshow is available online.)
Reflecting on the Day
Although we didn't really understand what was going on around us at some times, it was such an unique and exciting experience to be able to visit a WordCamp in a totally different country. All Japanese people at the event were incredible sweet and friendly to us and we even got featured with the WordCamp Tokyo mascot on the WordCamp photo wall and got the WordCamp T-Shirt as a present (although it was actually only for the WordCamp organizers).
It was also exciting to see a WordCamp being organized more like a big fair with many company booths, a book stand and so on. Next to that there was a quiz and an option to get a traditional Japanese massage, you could relax on tatami matts and there was a Red Bull promotion and even free beer for everyone at the end of the event.
So there a lot of things for us to explore and we had a lot of fun all day. Very special for us was also to be able to meet Philip (Twitter: @philip_arthur) and Konstantin from the Automattic theme team in person and even talk with them for a while.
So after some really exiting last days in Tokyo we are heading on with our travels through Japan and are already looking forward to our first trip on a Shinkansen bullet train to the historical city of Kyoto today.