What is Amazon Polly?
Amazon Polly is something I was not very familiar with, so I endeavoured to find out more. Amazon Polly a cloud service that turns text into lifelike speech, allowing you to create applications that talk. Launched in 2016, this Text-to-Speech (TTS) application uses advanced technologies to synthesise speech that sounds like a human voice. The result is high quality speech, exceptional pronunciation accuracy, and realistic sounding voices.
Amazon Polly currently provides a portfolio of 26 languages and 53 voices, which will likely continue to expand. Something that is worth noting is that, while Amazon Polly does offer a bilingual voice (for English and Hindi), further bilingual capability is not yet available.
For most languages you can choose from several male and female voices, which means you can select your ideal voice and easily produce speech-enabled content that works in many different countries.
The application is able to deliver synthesised speech in multiple formats, simply choose the audio format that suits your needs. For web and mobile applications for example, you might request the speech output in MP3 format.
With Amazon Polly, you only pay for the text you synthesise. Upon sign up, Amazon Polly lets you convert 5 million characters per month for free during the first year. The standard price is $4.00 per 1 million characters of speech. Amazon Polly's pay-per-use model means there are no setup costs – you can start small and scale up as your user base grows. You can also cache and replay Amazon Polly's generated speech at no additional cost.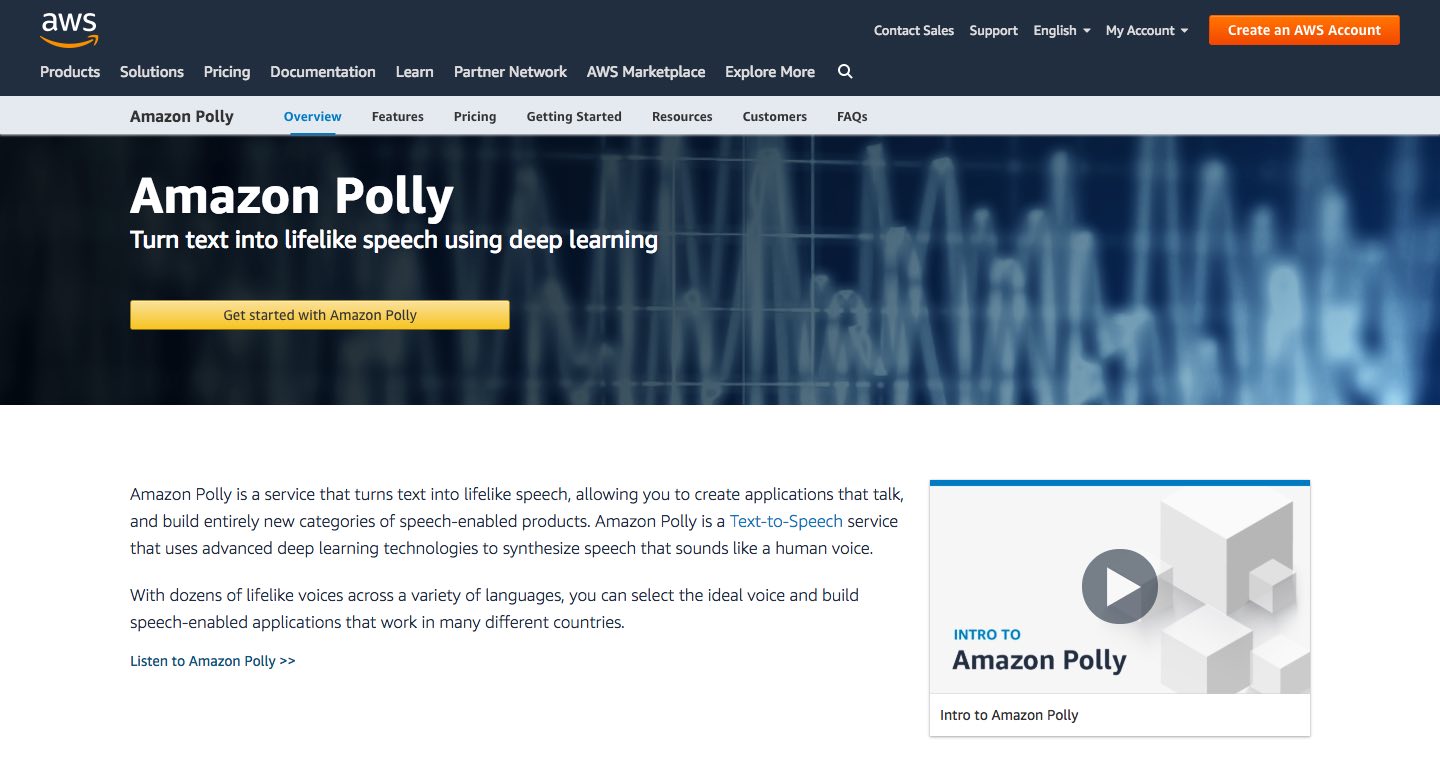 Amazon Polly and WordPress
More recently, Amazon introduced a blog tool to deliver WordPress posts as audio via Alexa. The launch of the Amazon Alexa blueprint specifically for WordPress, means you can now convert your posts into life-like speech, translate them into other languages and create podcasts – so your followers can not just read, but hear, the latest news and updates from your WordPress blog.
This new Amazon Polly plugin is huge for WordPress users who want to add extra content and functionality to their site. The Amazon AI Plugin for WordPress allows you to easily add text-to-speech capabilities to your written content, so you can create an audio version of your blog posts. You simply generate an audio feed for text-based content and insert it into an embedded player.
Please be aware that it is not yet possible to use the plugin on multilingual websites, as you can only select one main language for converting your written content. For instance, we had issues providing German and English on our Elmastudio blog (where we use the WPML plugin). Hopefully extensive multilingual capability will be added by developers soon.
Apart from Text-to-Speech functionality, the plugin also enables you to publish podcasts directly from your site and make them available for listeners. In addition, this powerful plugin allows to translate your text from one language to another, using Amazon Translate – which delivers fast, high-quality language translation. All this means you can increase the accessibility of your WordPress site to a wider audience – broadening engagement levels.
If you want to provide audio content on your WordPress website, then the first step is to install the Amazon AI Plugin for WordPress.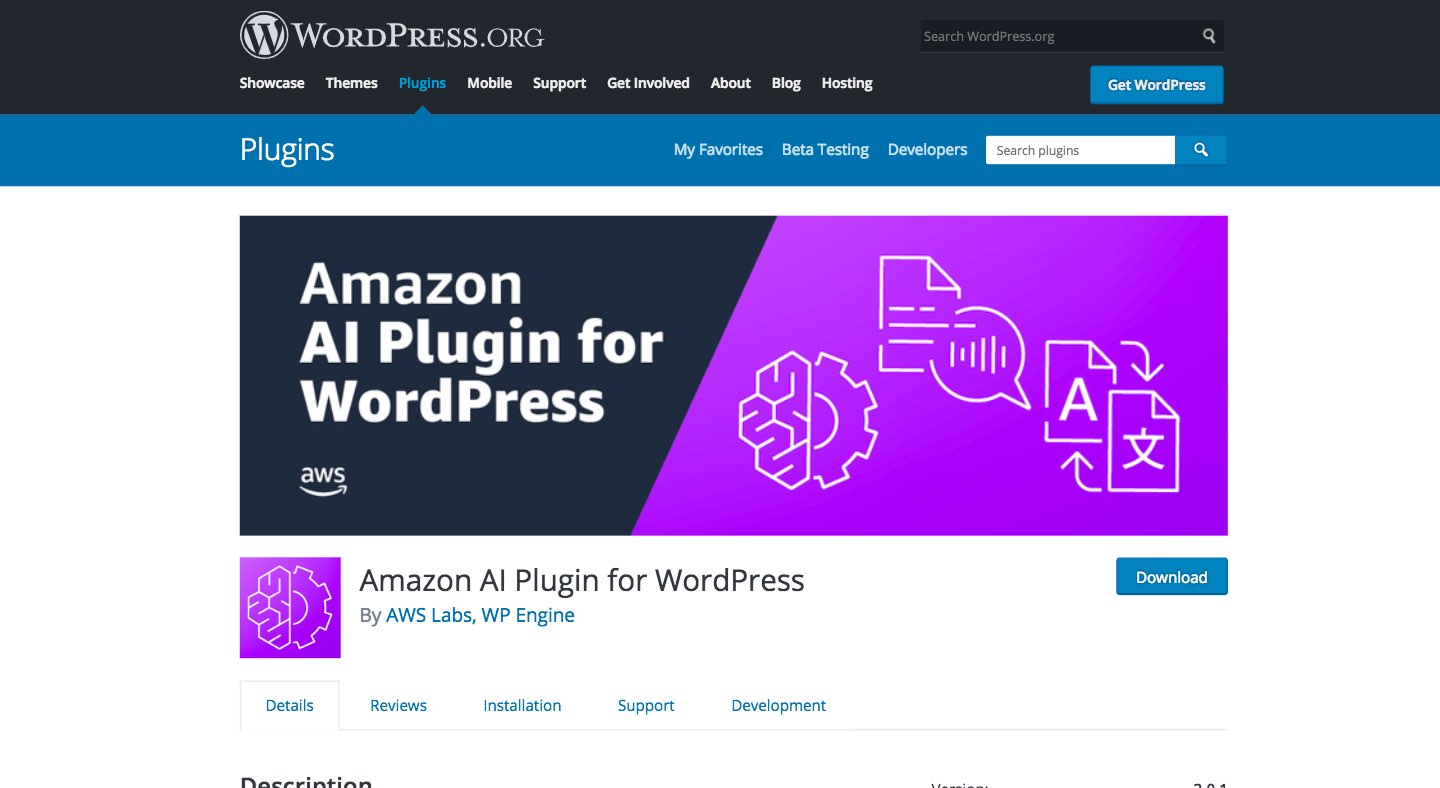 Next up, configure your Polly for WordPress settings. See here for additional Amazon support on setting up the plugin, and also check out the Alexa skill blueprints page for blogs. Have fun getting started!
Feedback & questions
I hope you liked the post, I always enjoy your feedback. Have you used a Text-to-Speech application, or tried Amazon Polly for WordPress? Do you have anything to add that I might have missed? I look forward to your stories and tips, just leave a comment.
Image credit: Icon made by Freepik from www.flaticon.com.