Theme Features
Responsive Webdesign
Renkon has a mobile-first, responsive web design. That means, with Renkon your website looks great on mobile devices and big desktop screens. All theme icons are optimized for Retina displays.
Theme Optionen
The theme options page offers you to customize the Renkon theme to your needs without having to change any theme template files (see a screenshot of the Theme Options Page).
Off Canvas Layout
The modern Off Canvas approach makes your website content even more accessible on mobile devices. Sidebar widgets and the main navigation will be hidden by default and can be moved into the screen if needed.
Cross Browser Compatible
Renkon supports all current browsers (tested in Chrome, Safari, Firefox, IE 9+, iOS and Android).
Translation Ready
Renkon is ready to be translated into other languages (you can use the plugin Codestyling Localization for your translation). Current available translations: English and German.
Theme Showcase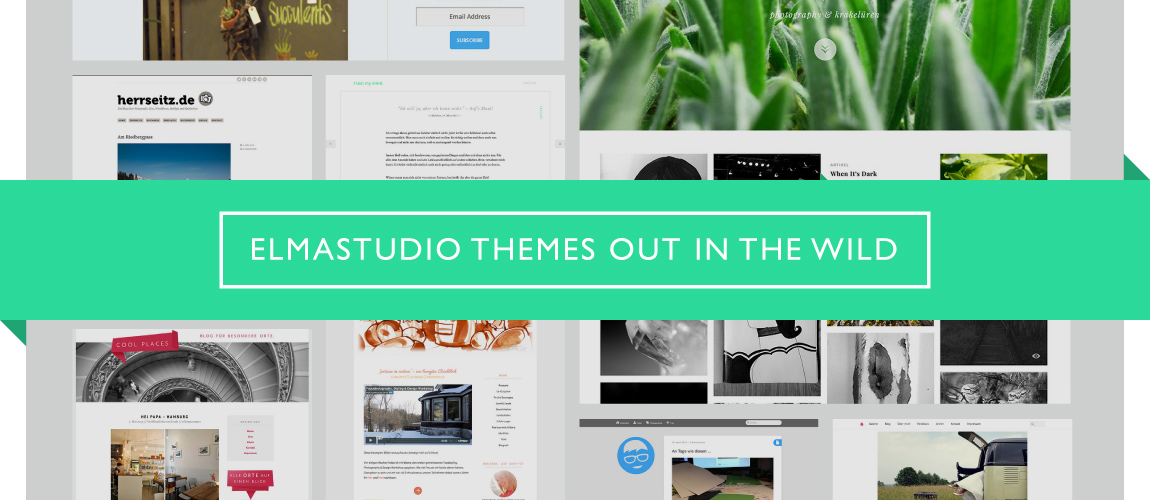 Are you also using Renkon as your theme?
Then just send us your URL to get featured in the Renkon theme showcase.
Terms and Conditions
Purchase Process
The theme payment is handled through PayPal. On the Paypal page you can choose to pay with your Paypal credit, debit or credit card. If you don't want to use Paypal and would prepare to pay via direct bank transfer instead, please just write us a short email note.
The theme price of 12 Euro includes 19 % VAT. Buyers from Non-European Union countries do not have to pay the 1,92 Euro VAT, therefore the final theme price for buyers from Non-EU countries is 10,08 Euro. During checkout you will be asked to include your country for the correct price calculation. After the final price is calculated in the checkout process you can click the Buy button to get directed automatically to the Paypal payment process.
After your successful payment with Paypal you can click on the text link "Back to Elmastudio" at the bottom of the Paypal page to get redirected to the Elmastudio website. You will receive an email including your individual theme download link and an invoice PDF file attachment for your records. If you don't receive this email, please check your email account spam folder first. Otherwise please contact me directly at ellen.bauer(at)elmastudio(dot)de for support.
It is important that your save the email including your download link, so you can always download the current theme version.
Warranty
All Elmastudio Premium themes are tested on the current WordPress version and are tested in the current browser versions (of Mozilla Firefox, Google Chrome, Safari, Internet Explorer, Android and iOS). If you use our themes with older WordPress versions or in combination with external WordPress plugins, problems can occur and there is no guarantee. In case you need the theme to work with a specific WordPress plugin, please contact us before the theme purchase to assure the plugin is compatible with the theme.
30 Days Money-Back Guarantee
If you are not satisfied with your theme purchase, we offer you a 30 days "no question asked" money-back guarantee. If you would like your money back, simply send us an email. We still ask you to to check the theme features thoroughly before your purchase to make sure the theme meets your needs (e.g. a sidebar option, header image option).
Theme License
All our WordPress themes are released under the GNU General Public License. You can use a theme without restrictions for your private and commercial projects and you can use a theme as often as you like.
Support
If you have any questions regarding your theme, please use to the Elmastudio theme forum to ask your question there or write a comment directly here on the page. This way all theme users can profit from the answers and can also help each others out. Please understand, that we can not answer questions about individual theme customizations.
Updates
With your individual download link sent to you via email you can always download the current version of your theme. By default you have a total of 30 downloads available for your theme. If you need any further downloads, please just write us a short note. If updates for your theme are available we will let you know via email.
If you have any questions regarding the Renkon theme, please use the Elmastudio theme forum or write a comment here on the theme page to ask your questions. Please understand that we can not answer questions regarding individual theme customizations. We're looking forward to hear from you!